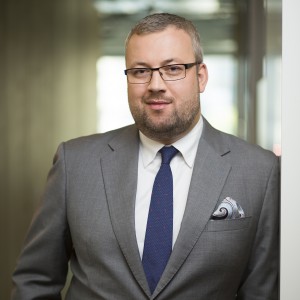 Arkadiusz Rudzki
Managing Director
Skanska Property Poland
Arkadiusz Rudzki was appointed Managing Director at Skanska Property Poland in January 2016. Since then, he has been responsible for making strategic decisions regarding the operations of Skanska's office unit in Poland.
Since his appointment as Managing Director, the company continuously achieves record-breaking results in terms of leasing office space. In 2016, Skanska leased nearly 80,000 sqm. In 2017, the volume increased to a record-breaking amount of over 100,000 sqm. In 2017, the company sold five office buildings for more than 300 million EUR. The unit managed by Arkadiusz continues to expand its land parcel portfolio with the most attractive areas in key markets across Poland, with special focus on city centres. In Warsaw, the company also plans projects outside the strict city centre. In 2018, Skanska Property Poland entered its seventh Polish market by launching the development of its new investment in Gdańsk. At the beginning of Q2 2018, the company is developing nearly 200,000 sq m of modern space throughout Poland. Skanska is the leader of sustainable development amongst developers. The strategic decision to strengthen business development based on social dialogue, cements Skanska's leading role amongst developers in terms of co-operation with local communities and NGOs. Thanks to support from Integracja Fundation, all projects are developed with focus on the needs of persons with disabilities and will thus apply for Object without Barriers certificate. Spark office building, which will serve as the main office of Skanska Group in Poland, will be the first project to be recognized with WELL certificate, which focuses on the quality of office space.
Arkadiusz joined Skanska Property Poland in 2012 as Leasing & Asset Management Director and was responsible for the creation and implementation of the unit's strategy in terms of leasing and the management of properties in Skanska's portfolio. During his term, Skanska was the only office developer to look into the expectations of companies from the business services sector and, as a consequence, has created a standard of office buildings that are fully adapted to their tenants' needs. Furthermore, Arkadiusz is also a member of the Management Team at Skanska Commercial Development Europe, the unit responsible for implementing investments in Poland, the Czech Republic, Romania and Hungary. Arkadiusz is responsible for the area of sustainable development in Central and Eastern Europe.
Arkadiusz has over 20 years of experience on the real estate market that he has gained through his work with leading financial institutions, advisory firms, and private equity funds operating in the real estate sector.
Skanska's office unit in Poland sets the standards for innovation in the building industry and developing innovative workplaces. The company has introduced its proprietary software, Connected by Skanska, which will be integrated with all new office projects in the area of Central and Eastern Europe.
Participates in the sessions:
One on one interview. This is of interest to the property world.

Investments. Make shopping in Poland – the appetite of investors and investment funds for properties in Poland has not been weakening. A recipe for an ideal project.
Poland's position on the global investments map – attractions and deterrents. What are the challenges?
Coworking. The trend that has "rejuvenated" thinking about offices. How will the market for coworking space develop?
How to attract investors and large projects – effective mechanisms. Labour market flexibility, legal and tax comfort, access to financing – how to improve conditions for investments? The role of development strategy for responsible business
The customer of the 21st century. Does the Internet threaten traditional shops? How will e-commerce change shopping centres?

One on one interview. This is of interest to the property world.
BACK