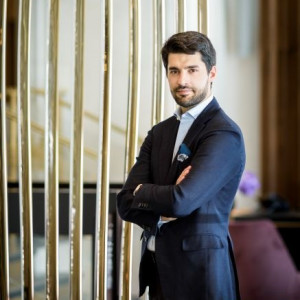 Julien Barbotin Larrieu
Julien Barbotin-Larrieu studied a BA in Economics at the Institut Supérieur de Gestion (ISG) in Paris, and later graduated from the École Supérieure de Gestion Financière (ESGF) also in Paris, with a Masters degree and a major in finance, acquiring specialized skills in quantitative mathematics and Macroeconomics.
His professional experience, although beginning as a parliamentarian assistant to Deputy Bernard Debré in Paris in 2008, was later on strongly connected to the financial sector. He completed an in-depth experience with UBS in Stamford, Connecticut, as a trader assistant in Global Equity Derivatives, focusing namely on healthcare and Tech books.
In 2014, he joined Hotel Europejski's renovation project in Warsaw, starting as an advisor, then occupying a board member's position, and ultimately acting as the President of H.E.S.A. Sp. z o.o. Sp. K's Management Board.
In parallel, and together with his wife, he has been running the Bez Tytułu restaurant in Warsaw and is to open a second restaurant in Warsaw in the second part of 2018.
Participates in the sessions:
Once upon a time within old walls or, the difficult art of revitalisation in Poland

The frenzy of revitalisation continuous. The scale of the Warsaw market and its prestige have meant that is where the largest number of investments has been made as a result of revitalisation of historic buildings, dilapidated buildings or degraded sites. However, the potential is much larger. What about older buildings that are not able to withstand market competition? Is reconstruction of unattractive, older facilities to convert them into apartments, hotels or modern offices a difficult art? What is the secret? In a unique spirit of the place, a special concept or perhaps cooperation with the best architects?

Once upon a time within old walls or, the difficult art of revitalisation in Poland

Hotels. New chains in attack. Hotel players increasingly focus on Poland

World brands and local players are oriented on Poland. They're opening new hotels, buying land and looking for facilities to acquire. How will the market divide up?

Hotels. New chains in attack. Hotel players increasingly focus on Poland
BACK