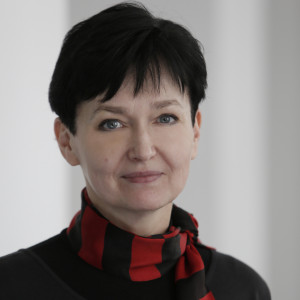 Małgorzata Grzyb
Architect, Interior Designer, Space Planner and Expert in the field of interior design. For years she designed many interiors and offices planned and created spaces in accord with client philosophy and business profile. She is the Project Manager, an engineer, a constructor passionate about technology.
She gained the experience necessary to obtain a state license in architecture, which entitles to design without restrictions. She graduates from the Faculty of Architecture at the Warsaw University of Technology. She participated in the EASA architectural workshop in Marseille. For many years she worked in architectural offices and as an independent designer gaining comprehensive professional experience.
Since 2008, an enthusiast of designing office space in line with the Activity Based Working philosophy. In years 2011-2015 Head of the Architecture Department in the company Martela Sp. z o.o. From the ground up, she built an architecture department and managed a team of architects. Guest lecturer at universities (ASP Lodz, Wroclaw Academy of Fine Arts, School of Interior Design and Space - Cracow School of Art) as well as a presenter (Gdynia Design Days, Conscious Interior, HR Congress and others).
He is an expert in the creation of a valuable, effective and inspiring space for living and working. Her portfolio consists also of individual furniture designs. Her realizations of the interiors of the office in Katowice and Łódź were nominated in the competition for the most beautiful office interior and a friendly office. Martela office in Katowice won the "Friendly Interior 2008 " prize.
At Interbiuro, he has been working since 2016, specializing in the design of office space, especially developing the ability to design with the Smart Workspace principle.
Participates in the sessions:
Quick Stories

Offices. Offices planned from A to Z

Today's offices are surprising not only for their appearance. They are comfortable, functional, with flexible space and working spaces

Hotels. Interiors with a flourish – five stars in their latest iteration

What does luxury mean today and what does that mean to the new generation of hotel guests? What elements of design and fit-out underlie luxury at hotels? The perspective of investors, architects and guests
BACK