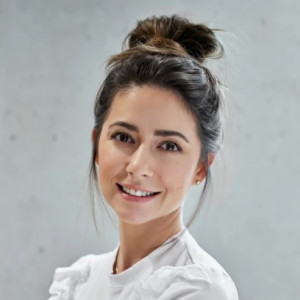 Izabela Górska
Co-founder, Managing Director
CIC Warsaw
Izabela supports startups by providing them with the best solutions and tools available on the market. She advises how to expand a young company and connects the potential of startup owners with the experience of distinguished business leaders. She is passionate about new technologies and innovative ideas that can be scaled up to global size. Her motto: Innovation is no magic. It's a SKILL.

She is a co-founder and Managing Director of the international, global organization Cambridge Innovation Center in Warsaw (CIC Warsaw). CIC started in 1999 in the USA with a vision and a simple idea: "Startups make the world much better. We can help them by setting up and managing Their office for them so they can focus on Their Business. " CIC will start operations in Warsaw in May 2020 in the highest building in Europe - Varso Palce.

Last years Izabela realized her potential as Manager in Business Link Warszawa, a project run by Polska Przedsiębiorcza [Enterprising Poland]. AIP Business Link is the business accelerator for startups in Poland. The Warsaw region managed by Izabela was the biggest and the fastest growing base for the whole Poland-wide network.

Izabela is also a certified coach of the global company Persolog®. She specializes in creating and conducting customized training designed to build business competence, e.g.: efficient capturing of new customers, effective sales, customer service standards, team communication, and negotiation. 



Between 2008 and 2011 Izabela was acquiring professional experience representing renown financial institutions like Lukas Bank S.A and Expander Advisors Sp. z o.o. She received many awards for impressive results in sales of investment services and fostering long-term customer relationships. 
Participates in the sessions:
Back to work – flexible surface in every block of offices – myth or a fact?

Will flexible hubs revolutionize the market of office space? What is the best form of tenancy? What do tenants expect? What are developers working on?

Back to work – flexible surface in every block of offices – myth or a fact?
BACK