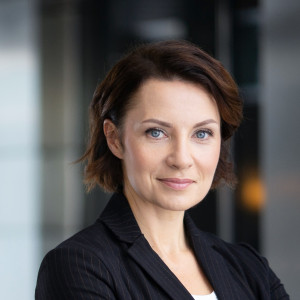 Joanna Mroczek
Senior Director – Head of CEE Research & Marketing
CBRE
Responsible for the cooperation of 6 countries - Poland, the Czech Republic, Slovakia, Hungary, Romania, and the SEE Region. Manages teams combining analytical and marketing forces, provide special projects for the market and clients, as well as joint engagement in eg. research reports and a competition for the best office (Office Superstar in Poland and Office of the Year in other countries). In this way, CBRE responds to customer expectations from the whole region. The Research Department prepares the highest quality market data and discovers the trends which drive the market. Thanks to this, CBRE's marketing activities are based on unique knowledge, valuable for customers.
Joanna has over 15 years of experience in the commercial real estate market. Since 2007, she has been managing the Research Department at CBRE, and the consulting services she provides for clients in all market sectors have translated into prestigious Euromoney awards for the best Research Department for many years. From 2015, she has been managing the Marketing and Communication Department, which supports the company's development at various levels. She is a graduate of the Warsaw School of Economics and the international program for management development of AMP IESE Business School. She is an experienced speaker on conferences, jury member in competitions, nominated in the Top Woman in Real Estate competition, amateur of running, cycling and scooter riding.
Participates in the sessions:
The market cannot stand the void. What assets should we invest in nowadays?

The first quarter of 2020 was very good for the transaction market in Poland. It was also a record-breaking period for the warehousing sector, Today investors are interested in warehouses and they are to a lesser extent interested in office blocks. Shopping centres and hotels are currently not being taken into consideration. How long will it last? Which sectors will remain more resilient to the effects of the pandemic? Dormitories, nursing homes, facilities from the "health care" sector – what other classes of assets will be the centre of attention of investors?

The market cannot stand the void. What assets should we invest in nowadays?
BACK