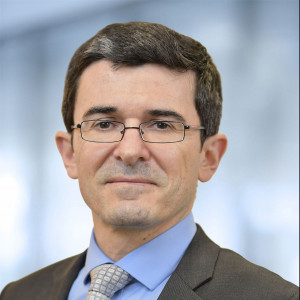 Mahdi Mokrane
Head of Investment Strategy and Research
PATRIZIA AG
Mahdi joined PATRIZIA in 2020 as Head of Investment Strategy and Research. Based in London he oversees the firm's investment strategies, research, data intelligence and performance analytics. He works closely with the CIO and serves on PATRIZIA's Investment Committee, as well as on the Fund Review and Product Development Committees. PATRIZIA manages c. EUR 45 billion of real estate asset for insurance companies, pension funds, sovereign funds, savings and cooperative banks and as co-investor. Prior to PATRIZIA, Mahdi worked at LaSalle and AEW, where he was Head of Strategy and Research. He has extensive experience in real estate transactions and portfolio and fund management in European markets as well as significant exposure to global private (equity and debt) and public markets. His experience has provided him with a deep track-record of integrating House View scenarios with Strategic Plans for funds and custom accounts. He has extensive experience in real estate risk management, having developed innovative portfolio analytical tools, many of which global. Prior to joining AEW in 2004, he worked at MSCI IPD as Director for Research and Training for France and Southern Europe. Mahdi was Professor at the ESSEC Business School and University of Cergy and began his career as a bond quant at CDC in Paris. He holds a PhD in Economics and Finance from EHESS and a MSc from Dauphine University (France). He is an active member of industry organizations including MSCI IPD, ICSC, INREV, and EPRA, and a regular speaker at industry events and university seminars. Mahdi is a Member of the RICS.
Participates in the sessions:
The market cannot stand the void. What assets should we invest in nowadays?

The first quarter of 2020 was very good for the transaction market in Poland. It was also a record-breaking period for the warehousing sector, Today investors are interested in warehouses and they are to a lesser extent interested in office blocks. Shopping centres and hotels are currently not being taken into consideration. How long will it last? Which sectors will remain more resilient to the effects of the pandemic? Dormitories, nursing homes, facilities from the "health care" sector – what other classes of assets will be the centre of attention of investors?

The market cannot stand the void. What assets should we invest in nowadays?
BACK