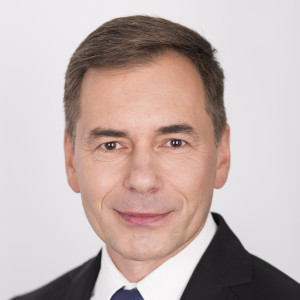 Marcin Nowak
President of the Management Board
ABSL
Marcin is an innovator - he runs and supports development programs contributing to increasing
financial efficiency, development and optimization of organizations as well as improving the quality
of industrialization of provided services.
As Chairman of the ABSL Management Board, he actively participates in activities, development and
transformation of ABSL in Poland, as well as in CEE Region. Given the current business, economic and
political climate, it is within this sector that Poland achieves the position of a global leader while
building an innovative environment, also becoming the leading source of jobs in the private sector.
Marcin has over 20 years of experience at many levels of management in engineering, outsourcing
and bio-pharmaceutical companies, working in international environment on the top-level
management positions and company boards' level. He started his professional career at the German
headquartered company Hochst AG, developing organization in all areas of its activity, including
effective transitions into subsequent structures in merged brands of Dade Behring and Siemens
Medical, operating widely accross Polish and Russian markets.
In the next stage, Marcin supported the management of ITO outsourcing centers in Capgemini,
located in Central and Eastern Europe. In addition to well-known Polish office locations in Krakow,
Katowice, Opole, he also supported the location strategy process and development of Capgemini
outsourcing centers in Romania, Brazil, Morocco and China. At the same time, he was responsible for
running one of the Global Service Line (Distributed Smart Services), which are part of the service
implementation chain based on a global network of external on-site services providers.
Marcin is graduated from Technical University - AGH in Krakow, the faculty of Electrical Engineering,
Automation and Electronics, and graduated from the MBA University of Quebec at SGH in Warsaw.
Participates in the sessions:
Investments after COVID-19 pandemic – will Poland again become a green island?

The coronavirus has been paralysing global investments. The decrease in investors' activity on the global market has been the most dramatic in history. Europe has been losing its charm while Poland is swimming against the tide, attracting a growing number of projects. Will the fourth industrial revolution not pass us by - Poland's competitive advantages. How do properties find themselves in the post-covid era? Which sectors have the potential of attracting the largest capital? What locations are attractive for investors? Should we be afraid of anti-globalism and economic protectionism?

Investments after COVID-19 pandemic – will Poland again become a green island?
BACK