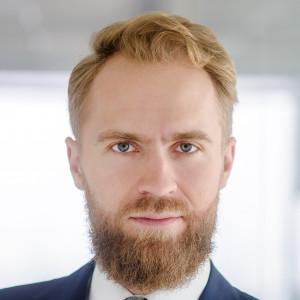 Michał Białas
Country Head Poland
ACCOLADE
Michał Białas has been associated with the real estate market for years. He is an expert in the structuring, financing and execution of real estate transactions, showing above-average analytical and negotiation skills. He believes in the power and importance of relationships and builds them with great commitment which allows him to effectively run the business.
Currently involved in the operations of the Accolade in Poland, where he holds the position of general director. The competences of Michał's department include: assessment and preparation of real estate investment transactions, asset management, financing of the projects. Accolade in Poland owns parks in Szczecin, Zielona Góra, Lublin, Kielce, Bydgoszcz, Białystok, Konin, Legnica and in Mińsk Mazowiecki.
He loves music and sports. In his spare time, he plays the guitar, runs and plays squash.
Participates in the sessions:
The market cannot stand the void. What assets should we invest in nowadays?

The first quarter of 2020 was very good for the transaction market in Poland. It was also a record-breaking period for the warehousing sector, Today investors are interested in warehouses and they are to a lesser extent interested in office blocks. Shopping centres and hotels are currently not being taken into consideration. How long will it last? Which sectors will remain more resilient to the effects of the pandemic? Dormitories, nursing homes, facilities from the "health care" sector – what other classes of assets will be the centre of attention of investors?

The market cannot stand the void. What assets should we invest in nowadays?
BACK